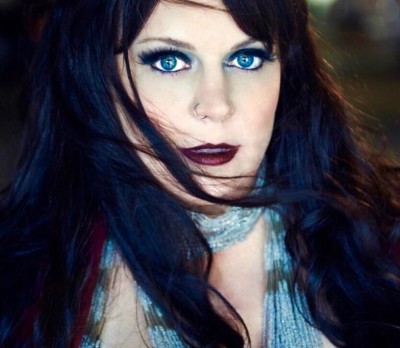 She is an enigma…and it serves her well. Indeed, nothing is simple in Jennifer Hope's world.  Her point of view may be intricate, but it's also understandable and, in a way, comforting.  When she explores the dark recesses of life she not only challenges preconceived notions, she also exposes the discord within and the truths hidden behind them.
Shrouded in alternative rock, laced with seductive synths and ethereal edges, Jennifer invites listeners into her world, a place of contrasts and a mystical ambiance.  Her songs posses both soft, silky petals and sharp, distressed thorns.  In fact, it's life's contradictions that propel and motivate her.
With tunes like "Maze of Lies," Jennifer calls it as she sees it with strong, cutting lyrics: "I don't want to know what's in your mind/and I don't need to see what I might find/in your maze of lies."  But, this artist is not just another angry feminists.  The music scene has plenty of them already.  Instead, Jennifer deals with human nature and all of its eccentricities.
Hope, cloaked in an intimate darkness, is the essence of Jennifer's music: dark yet light, soft but hard, restless and tranquil.
In 2013, Jennifer Hope released her ten track LP, "Velvet Fire".  In 2014, she recorded and released her follow up EP, "X-Tremities".  Both projects were sponsored by Eddie Van Halen and produced by Warren Huart (Aerosmith, The Fray, Johnette Napolitano, James Blunt).  On April 21, 2015 Cleopatra Records released Jennifer Hope's five track covers EP, "Love Blooms to Black".  "Jennifer Hope revisits modern classics, adding her unique magic to every song," – Cleopatra Records.  Hope's latest single and first duet, "Bring Me To Life," was released, February 5, 2016.